Lucas Ruff
By Bonnie Hidalgo, Executive Field Representative
Looking through the Irish Setter Club of America National Field Trial photos shows AKC Junior Handler Lucas Ruff grow from a 4-year-old preschooler to a teenager. Ruff first attended the 1994 National Field Trial when he was 4-years-old and has attended the majority of the nationals since.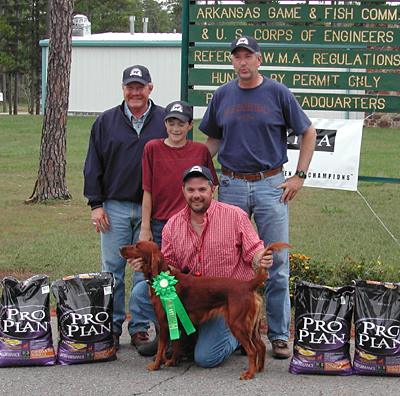 Having learned how to scout, handle and train bird dogs at an early age, Lucas has been involved in the training and handling of quality field Irish Setters for most of his life. He successfully competes with the breed in pointing breed field trials and has been spending his summers with his grandparents at "Dog Camp" in Ainsworth, Neb., since he was old enough to ride a horse across the sand hills at age 7.
Ruff received his dog, Brophy's Glory from his parents, Phil and Jenny Ruff, and his grandparents, Ken and Linda Ruff. She is home-grown, the last puppy from Phil and Ken's great Champion, Brophy's Margarita. Glory sleeps with Lucas when he is home and spends her nights in his doorway when he is away. Lucas began handling Glory in field trials in the spring of 2003,receiving his first placement in May 2003 at Eagle, Wis., in an Amateur Gun Dog Stake. He handled Glory to seven of 10 points for her AFC title. Lucas put the final points on her with a first place Amateur Gun Dog win at the Western Irish Setter Club trial on April 23, 2005.
Lucas has been handling Glory at the Nationals in Booneville, Ark., since 2003. He has been a crowd favorite since that time, always attracting a large spectator following. Lucas and Glory received a Judges Award of Merit at the 2004 Irish Setter Club of America in the National Amateur Championship. At the 2006 renewal of the ISCA National Amateur Championship, Lucas and Brophy's Glory placed fourth behind Lucas's dad, who placed third with his dog. Glory hunted hard for Lucas and pointed quail with excellent manners.
Lucas has handled dogs for other family members and friends. Recently he has put placements on Brophy's Lonestar and Brophy's Mariah of Ballycroy in Open Puppy stakes. A third-generation field trailer, Lucas works with his family to increase international visibility for the sport of pointing dogs. The Ruff family hosted a French family at the Nebraska Dog Camp in the summer of 2006.
Lucas is bright, mature, polite honors student who also serves as an usher at his church and participates in a variety of activities, such as cross country, the French Club and youth orchestra.