Wear your Achievement: Junior Title Pins and Title Bars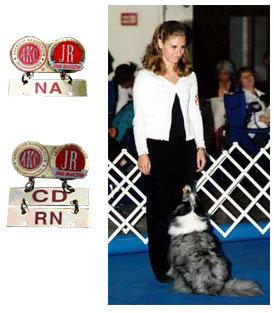 Did you know you receive a gold achievement pin when you earn a title showing your dog in Obedience, Rally or Agility?
Juniors receive a pin for the first title earned along with a title bar.
Earn more titles; add title bars to the pin. See list below.
To request additional title bars, send an email to juniors@akc.org with the following information:
Junior Name
Junior Number
Junior Mailing Address
Dog's Registration Number
Dog's Registered Name
The title(s) you are requesting
Novice Agility – NA
Novice Agility Jumpers – NAJ
Open Agility – OA
Open Agility Jumpers – OAJ
Agility Excellent – AX
Excellent Jumpers – AXJ
Master Agility Excellent – MX
Master Excellent Jumpers – MXJ
Master Agility Champion – MACH
Novice Fast – NF
Open Fast – OF
Excellent Fast – XF
Agility Master Fast Excellent – MXF
Novice Agility Preferred – NAP
Novice Agility Jumpers Preferred – NJP
Open Agility Preferred – OAP
Open Agility Jumpers Preferred – OJP
Agility Excellent Preferred – AXP
Excellent Jumpers Preferred – AJP
Master Agility Excellent Preferred – MXP
Master Excellent Jumpers Preferred – MJP
Novice Fast Preferred – NFP
Open Fast Preferred – OFP
Excellent Fast Preferred – XFP
Companion Dog – CD
Companion Dog Excellent – CDX
Beginner Novice – BN
Graduate Novice – GN
Graduate Open – GO
Versatility – VER
Rally Novice – RN
Rally Advanced – RA
Rally Excellent – RE
Rally Advanced Excellent – RAE