Paving the Way for a New Generation
By Gary Sadler, AKC Executive Field Representative
What does it take to get that young person involved in our sport? It could be something as small as taking the time to answer a simple question or allowing a young person to pet your Field Trial or Hunting Test dog. You've probably inspired someone and didn't even realize the connection that was made.
As I walked through the parking lot at the CNEBC field trial this past April, a man and his son greeted me. I didn't recognize them until the father began telling me I had created a monster (jokingly) out of his son. Then I remembered seeing Chip and Duncan Richards at another trial and encouraging Duncan to sign up for Junior Handler and run his dogs. I hope that you, too, will take the time to encourage any young person you meet to join us in our passion for the sport of dogs.
"I was inspired by my Father and my first dog," commented 15-year-old Duncan Richards. "I used to travel with my Dad to the different Hunting Tests that we had all over New England. I also liked to help him in any way while he was training Adie."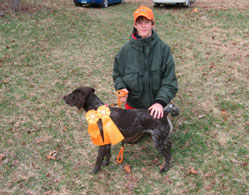 I know how I would feel if my son or daughter (or any young person) said that I inspired them to participate in dog-related activities; probably the same as Chip Richards, who takes great pride in his son's new-found involvement with their hunting partners and companions.
Duncan's Father offered the time, encouragement and patience required to gain a young partner in training, hunting and event participation; a partnership that, as many families know, can last a lifetime.
Adie, an eight year old Brittany, led Duncan and his father into AKC events when Adie starting running in Hunting Tests at the Junior level. Duncan said because of Adie's age, instead of training her to be steady to wing and shot, he intends to let her run at the Junior level for fun and to hunt with her.
As far as field trials go, the Central New England Brittany Club held a Hunting Test and Field Trial (walking) on the same weekend in April. Hannah, the Richards' two-year-old German Shorthaired Pointer, had two legs toward her Junior title. She qualified on Saturday and on Sunday she finished. Getting Hannah through the Senior level and steadying her to wing and shot is Duncan's goal.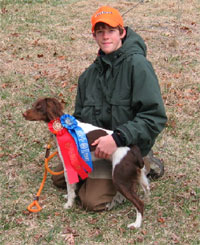 Duncan and Chip's youngest dog, a year-old Brittany named Chayse, had a good start in field trials that same weekend. Duncan and his father were busy running back and forth but it paid off when Chayse placed first in the Amateur Puppy on Saturday and followed up on Sunday by placing second in Open Puppy. Add the second place run at the Southern New England Brittany Club field trial the month before and you start to see a pattern. As with Hannah, Duncan intends to get Chayse steady to wing and shot: Look out big boys!
And lest you think training and running his dogs is all Duncan has time to do; think again. While attending Moultonborough Academy, Duncan participates in soccer, hockey and baseball. The well-rounded young man also enjoys golfing and is active in fund-raising for his class trip and is running for class representative for the year 2010. Most importantly Duncan is on the High Honor Roll at Moultonborough Academy.
Duncan ended by saying his ultimate goal with all three of his dogs is "to bond with them and let them have fun with what they're doing." What wisdom from a 15-year-old; because, ultimately, that's what it should be about: The human/animal bond and fun...for us and the dogs.
I hope that you will take the initiative to encourage any young person you meet to join us in our passion for the sport of dogs. Send them to www.akc.org to sign up as a Junior Handler. It will only cost you a few minutes of your time and, who knows, you may be paving the road for someone who may be the future of our sport.