Andrew Fidler makes successful debut as Junior handler!
By Bonnie Hidalgo, AKC Field Rep
Andrew Fidler competed for his first time in a Pointing Breed Field trial on October 7 - 9 2011 at the Ozark German Shorthaired Pointer Club trial held at Grovespring, MO. Andrew has been riding as a spectator at trials for the past three years and has become an accomplished rider. It was only natural given his love for bird dogs that he would want to step up to the role of handler.
Andrew is the twelve year old son of Brian and Stephanie Fidler of Oak Grove, MO. His sister Kenzie also enjoys riding at field trials when she is not occupied with her dance competitions and practice. Each family member has their own horse so that they can all enjoy the sport together.
When the Fidler family raised a litter of Vizslas last fall, Andrew picked one out for his own. He named her May-C and he worked from the start to socialize her and to begin her education in the field. Andrew regularly works with his Vizsla in training sessions at home. May-C turned one year old on October 4 and Andrew entered her in the Open Puppy and the Open Derby at the Ozark trial.
Andrew informed his Mom, Stephanie, that he would need her horse Joe to handle from as his horse was not as ambitious. So mounted on Joe, Andrew ran May-C in the Open Puppy against 13 other puppies that were handled by professionals and experienced adult Amateurs. May-C did not disappoint him and they captured the third place ribbon.
Next they ran in the Open Derby, a stake with 24 starters, again all other handlers were adults and some of those professional dog trainers. May-C again did her thing, running a nice race and pointing her birds. When the results were in May-C and Andrew had placed fourth.
When the awards were handed out at the Clubhouse, the Ozark GSP Club presented to Andrew a first place Junior Handler ribbon in addition to May-C's placement ribbons. The Club is commended for recognizing the importance of youth entering pointing dog events.
Andrew is in seventh grade and does very well in school. He also has responsibilities at home as far as chores are concerned. Andrew's likeable, outgoing personality will take him far in this sport and in life in general. Watch for Andrew and May-C next at the Hoosier Vizsla Club trial at Pyramid State Park near Pinckneyville, IL on October 22 & 23 and again at that location for the Derby stake at the Vizsla Club of America Nationals in November. Here's wishing the best of luck to Andrew and May-C!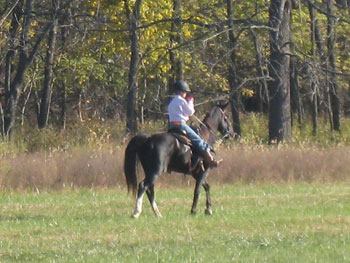 Handling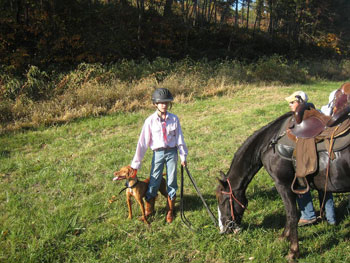 At the line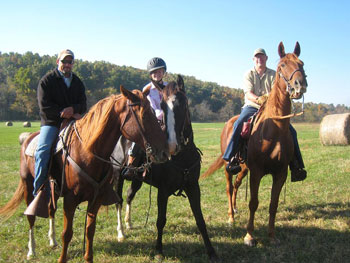 With the Judges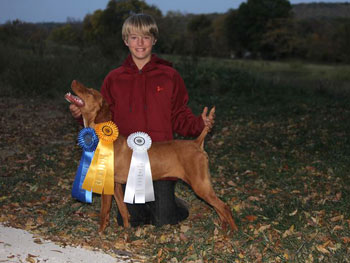 Andrew with May-C