CADET℠ Cancer Detection Test
Early Detection of Canine Bladder Cancer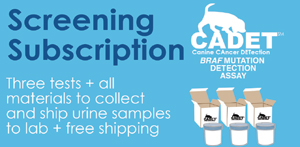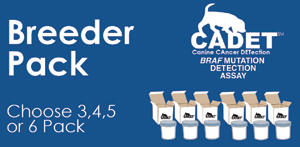 Over 80,000 dogs will be diagnosed with bladder cancer (TCC/UC) this year. Is your dog at risk? Thanks to a simple at-home test, you can detect bladder cancer earlier — while there's still time to act.
The CADET℠ BRAF Mutation Detection Assay detects the presence of bladder cancer (TCC/UC) up to 4 months before any clinical signs are present - and all with a simple free-catch urine sample. Results will be delivered to you within two weeks of receipt of urine to laboratory. Detecting cancer earlier before symptoms even present can dramatically change prognosis and long-term survival of your best friend.
Choose from one of the following products:
Annual Screening Subscription - Receive all the materials needed to test one dog 3 times a year. Includes free shipping and handling.
Breeder Pack - Test multiple dogs from the same household all at one time for a reduced rate. Includes free shipping and handling.
Diagnosis/Monitoring Pack - For clinic use and expedited results, order directly through SentinelBiomedical.com.
CADET℠ BRAF MUTATION DETECTION ASSAY/TEST
AVAILABLE TO PURCHASE TODAY:
ANNUAL SCREENING SUBSCRIPTION PACKAGE
BREEDER/MULTI-DOG PACK
DIAGNOSIS/MONITORING available directly at SentinelBiomedical.com