Bringing Back a 100-Year-Old Tradition
Commemorate Your Dog's AKC Title With A Medallion
Login to MY AKC to set up and save your search options.
New York, NY — The American Kennel Club® announced today that it will be offering AKC® Title Medallions to all owners whose dogs have earned titles at AKC events. The medallion is modeled after the original American Kennel Club Silver Championship Medal that was offered to AKC champions of record in 1910.
"As we look back on our history, our 125th Anniversary is a great time to bring back this tradition," said AKC President and CEO Dennis Sprung. "These medallions illustrate how our dogs are part of AKC's history and allow fanciers to proudly display their achievements. They also make a special gift to congratulate someone on earning a title."
The AKC Title Medallion can be ordered for any dog with an AKC title and comes with a certificate of authenticity which verifies the achievement as well as space on the back of the medallion for the dog's name and title to be engraved. (Please Note: Engraving not included) Owners can choose between two sizes: a small medallion that can be incorporated into jewelry and a larger size that can be displayed.
Owners of all past and present AKC title holders are eligible to purchase the medallion. The Title Medallions will be released in conjunction with the AKC/Eukanuba National Championship in mid-December through the AKC online store. In the future, when AKC-registered dogs complete a title, they will receive a customized order form and an additional blank form to order medallions when they receive their AKC title certificate.
AKC Title Medallions and Certificates FAQs
Is engraving included on the medallion?
No, engraving is not included.
What is the cost of shipping?
Shipping is included in the cost of the medallion and certificate.
Must I be logged in before ordering?
Yes. You must login to your MyAKC account before making an order. If you don't already have a MyAKC account, you can create one Here.
What kind of material are the medallions made of?
The base metal is nickel with nickel oxidized plating.
Hide FAQs
For additional information please contact the AKC Order Desk at 919-233-9767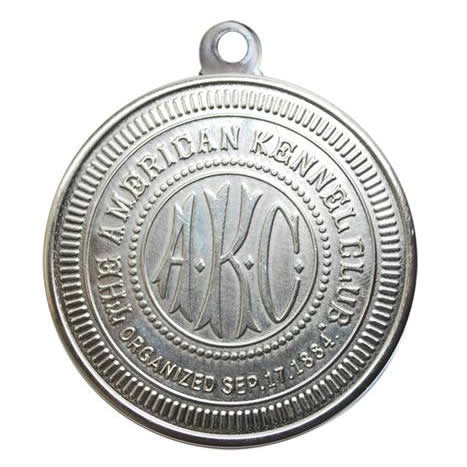 1¼" Medallion (front)

2" Medallion (front)

2" Medallion (back)