One in Three Pets Will Go Missing in Their Lifetime.
Choose AKC REUNITE pet protection.
What would you do if your dog was one of the three? Be sure to show your dog is loved and cared for with 24/7 AKC Reunite protection.
AKC Reunite pet recovery service links all of your important contact information to your dog's AKC registration number that is printed on a custom AKC collar tag including our toll free pet recovery service phone number. When your dog is found, AKC Reunite will immediately call, email and text you to reunite you and your dog as quickly as possible. Even better, you can also include your pet's microchip ID number for added protection — and unlike other pet recovery services, we charge no annual fees for this lifetime protection.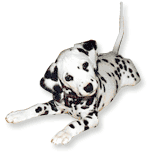 Don't settle for an ordinary collar tag with only one way to reach you! Get AKC Reunite protection and say, "Yes! I love my dog!"
To enroll by mail, fill out the enrollment form (that was enclosed with your AKC registration certificate) and mail it to:
American Kennel Club
PO Box 900072
Raleigh, NC 27675-9072