Taking Care of Judges
by Carol Delsman
You've trained all winter and it is now the middle of trialing season. The club has put in many hours to assure that the facility is up to AKC standards and the stock provider has made sure the livestock is appropriate. You are well on your way to a fantastic event. But what have you done for your judges?
Herding judges for the most part do get paid a fee but no one is getting rich doing it. For a one day judging assignment, the judge took 2 days getting ready to go and 2-3 days away from home in order to allow for travel. It probably meant getting up early to catch a flight and getting home late.
If you have gone to all of the work to hold a good event, it is to your advantage to have your judge in a good state of mind. Here are some helpful hints to make the whole experience positive for the judge and the club alike.
1. Make sure you have a contract that covers everything from dates to mode of transportation. If you cover everything in your contract, then there aren't surprises for either of you.
2. Get the judge there in plenty of time. Red-eye flights might be cheaper for the club but do not usually give your judge adequate rest before the event.
3. Transportation to motel and site should be comfortable for your judge. They are probably tired and hungry when you pick them up and while you love your dog dearly, most judges don't want your dog in their lap. Also make sure they don't have to wait for long periods of time while you wait for another judge.
4. Feed your judges well. Find out in advanced what they prefer for meals. For some judges a donut for breakfast is fine but if they are going to spend the next 4 hours judging, they may need more. Most airlines no longer feed people and many motels don't have restaurants so a hospitality basket in their room might be appropriate.
5. Good housing is imperative to a good night sleep. If a judge is going to be alert and ready to score runs all day, it is important that they get a good night rest. Clubs who look for the cheapest motel are often short changing them selves as their judge couldn't get a good night sleep.
6. Judges also need a good support team. Train the scribes before the event. It distracts judges if they have to keep watch on their scribes.
7. It is now possible for judges to judge 50 runs a day but if you have judges scheduled for many courses and several types of livestock, this could lead to 10-12 hours of judging and in some cases even longer. While 50 Course A duck runs is reasonable, 50 Course B cattle runs are not.
8. Getting the judge to the site is important as judges are required to check the facility and livestock before they start to judge. They also need to familiarize themselves with stock handlers, scribes and timers. If you are using different judges for morning and afternoon, consider not picking up your afternoon judge until later. If you pick them up at 5:30am and they are not judging until afternoon, it makes a long day for them.
9. Judges are there to judge, not fix fences, treat livestock or set up courses. That is for the course director and their crew.
10. It is important that the judge is taken care of during the day. Shade should be provided in the hot sun and a chair to sit in between runs is nice. Protections from such elements as wind and rain are also imperative. It's hard to think clearly when your hands and feet are freezing.
11. Make sure that during the day, your judges needs are met. Bathroom breaks, snackes, and drinks are all things to keep in mind.
12. Most judges like to go to a judge's dinner but again use common sense. Try not to make it too late a night if you need to get them to the site early the next morning.
13. Once the event is over, make sure you don't forget that you judges are still under your care. Have they eaten, do they have a ride to the airport?
While not of the above are required, it is to your advantage to have your judge in a proper state of mind. Your judge is there to give you their expert opinion on the dogs exhibiting under them.
Judges' Stand gives judges a bird's-eye view.
Judge Debbie Pollard is given a comfortable place to judge with a good view and great help.
Willamette Valley herding club provides judges with chairs and a good view of Course B Cattle.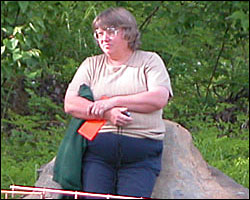 Judge Linda Rorem taking a break in the shade.
Judge Carol Lucero gives our awards in shade on a hot day.
Judge Bob Ewing being thanked by exhibitor Lynn Leach.
Florida club offers a great location for Judges' Seminar.